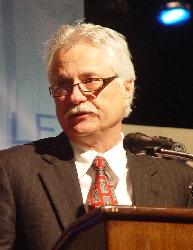 LFT President Steve Monaghan calls for Better Choices for a Better Louisiana

Addressing some 200 delegates to the 46th annual Louisiana Federation of Teachers convention in Lake Charles on November 22, LFT President Steve Monaghan called upon Gov. Bobby Jindal and the state legislature to make "better choices for a better Louisiana."
In his State of the Union address, Monaghan said that much of the financial crisis facing the state was caused by decisions made over the past few years. Unless better choices are made, he said, the state faces a bleak future.
"If we don't stand up and demand other choices, the governor is telling you that the future is less," Monaghan said. "It is not sustainable. Your retirement is not sustainable. Your way of life is not sustainable. And if yours isn't, then those who are coming behind you have no chance.
"You owe it to them to provide the same quality of life," he said. You have a civil, moral and cosmic responsibility to do that."
The LFT president began his address by comparing Gov. Jindal's performance in office to promises that the newly elected Jindal made at the Federation's 2007 convention, also held in Lake Charles.
In that speech, Jindal said his goals included a predictable, steady revenue stream to invest in public education, raising salaries for educators, reducing paperwork for teachers and a call for more parental involvement in education.
"Compare the past to what has occurred since," Monaghan said.
"One of (Jindal's) first acts was to veto legislation that created a school facilities authority in Louisiana," Monaghan said. "He supported tax deductions for private schools and home schooled students…He led the charge for private school vouchers in New Orleans…He supported a frozen Minimum Foundation Program for two consecutive years as costs escalated, and was all for the elimination of the requirement that 50% of MFP growth money go to teacher salaries."
Monaghan said the governor "pushed for the removal of the caps on charter schools, and he supported the amendments to law weakening the constitutional protections of teacher retirement. He opposed amendments to the state budget that allows supplements for support employees. He supported a 'value added' teacher evaluation even though there is absolutely no evidence at this time that it is worthy of being statutorily adopted…The governor pushed to defund the national board certification stipends after saying that he supported them."
Continuing his litany of grievances, the LFT president said that Jindal's signature education bill, the so-called "Red Tape Reduction Act," is actually an attack on teachers and school employees.
If it survives a constitutional challenge filed by the union, Monaghan said the act "can eliminate sick leave in the building or in the district…it can eliminate your assault leave provision. It can eliminate the teacher bill of rights, the very bill that Gov. Jindal held out as a profound advancement for all mankind."
Turning to higher education, Monaghan noted that Jindal has cut funding for colleges and universities by over $300 million over two years.
"Courses are being axed and departments are being wiped out," Monaghan said. "If you're going to eviscerate higher education, then forget the rest of your lives. I love football and I love sports but a university is not built just for tailgating on Saturday night."
While the governor has chosen to embrace an anti-public education agenda, Monaghan said, his ideologically driven administration is also threatening the entire social fabric of the state. Even in the face of an unprecedented fiscal crisis, Monaghan said, Jindal has "laid down a gauntlet that there will be no new revenues" to pay for vital public services.
That is true even though the state offers over 440 separate tax breaks that amount to more than $7 billion a year in lost revenue. In contrast, the looming budget shortfall is slightly less than $2 billion.
"Can't we make better choices?" Monaghan asked "If these tax breaks are helping people, we should keep them in place. If they are not, we should have the leadership to tell the people these tax breaks have to go because they are not serving the welfare of communities in Louisiana."
One of the tax breaks mentioned by Monaghan is a suspension of sales tax on the purchase of gold bullion.
"I know you like being able to make your gold bullion purchases tax-free," Monaghan joked. "I don't like paying sales tax on my gold bullion. Or on my Mardi Gras trinkets, either. Even Wal-Mart gets to take 1.1% right off the top of all the sales taxes it collects."

Delegates react to LFT President Steve Monaghan's State of the Union address.
In order to build a wave of support for reining in some of the tax loopholes, Monaghan said the Federation has joined a coalition called "Better Choices for a Better Louisiana" which will lobby for a sounder fiscal policy in the upcoming legislative session.