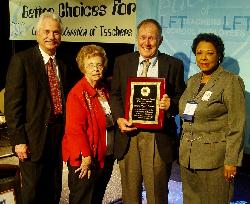 LFT President Steve Monaghan, Tangipahoa Federation President Doris Flanagan, Penny Ferguson, St. Tammany Federation President Elsie Burkhalter
Longtime union leader Prentiss "Penny" Ferguson has received the Pioneer Award from the Louisiana Federation of Teachers. The award is presented annually to individuals who, over the years, made major contributions to the growth and influence of the LFT.
For more than 40 years, Ferguson has been a mainstay of the Federation, serving as president of the United Federation of College Teachers and as Vice President of the LFT. Though retired from his teaching duties at Delgado College, Ferguson remains a key figure in the Federation's leadership.
Ferguson has been a valued advisor and confidante to a succession of LFT presidents. Retired LFT President Emeritus William Savage expressed their appreciation when he wrote, "Penny Ferguson was always the complete union man: loyal to the principles of the American Federation of Teachers, vigorous in defense of the rights of teachers, and tireless in his efforts to improve the professional lives of those he brought into the union."
In presenting the award to Ferguson, LFT President Steve Monaghan said, "In the crises that our state has faced in the past several years, ranging from natural disasters to political upheavals to financial collapse, I have always relied on Penny's wisdom, quiet confidence, solid advice and deep faith in the values of our union"
The Pioneer Award was presented at the 46th annual LFT convention at L'Auberge du Lac in Lake Charles.