JFT President Meladie Munch presents petitions signed by thousands of school employees to the Jefferson Parish School Board.
(Kenner, LA – December 9, 2010) In a historic vote Wednesday night, the Jefferson Parish School Board granted collective bargaining rights to the district's 3,000 paraprofessionals and school related personnel. The 5-3 vote marked the greatest expansion of bargaining rights in the parish since teachers won a collective bargaining agreement in 1977.
The board vote marked the climax of a campaign by the Jefferson Federation of Teachers and the Service Employees International Union Local 21 to win dignity and respect for school board employees. By gathering an overwhelming number of employee signatures on petitions, the unions convinced the board to grant the long-sought prize.
"This is a great victory for our support employees," said JFT President Meladie Munch. "This opportunity will provide support employees the long needed dignity and respect that they deserve. These employees work hard and are essential to the success of our school system. We are excited to have the opportunity to represent school employees and help them have a voice in our school system."
According to the board vote, JFT will negotiate on behalf of paraprofessionals, clerical employees and school crossing guards. SEIU will represent transportation workers, custodial and maintenance employees and child nutrition workers.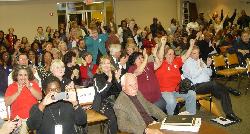 School employees erupt in cheers as the Jefferson Parish School Board approves collective bargaining rights.
While Wednesday's vote was a crucial step toward collective bargaining for the employees, the process is not over yet. Contracts must be negotiated and ratified by employees and the school board. Both sides are hopeful that the process can be completed this month, making it a great Christmas present for school employees in Jefferson Parish.